#88. Travel and Tourism generates $100 billion in tax revenue for local, state, and federal governments. If you place 100 billion dollar bills end-to-end, they would circle the world 397 times.


Should High Schoolers Be on LinkedIn?
Yes, it's a social network website, but this one might land you that competitive internship or put your job application at the top of the pile
What is LinkedIn?
If you don't already know, LinkedIn is a social network site for professionals. Instead of filling out a profile with your favorite music and pictures from summer vacation, you build a profile that acts like an evolving resume. On it, you can include work history, schools attended, honors or awards received, GPA, involvement in clubs and sports, volunteer activities, skills, and professional and academic interests.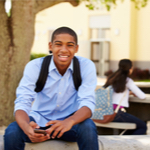 Perhaps most importantly, you can request and receive endorsements for your skills from other LinkedIn users; receive recommendations from teachers, coaches, and previous employers; and network with peers and adult professionals. This type of professional networking is what helps you stand out in a crowd of other college, job, and internship applicants—especially since high schoolers with LinkedIn profiles are few, even though LinkedIn has lowered its minimum user age to 16.
How high schoolers can use LinkedIn
Say you're looking for a summer or part-time job or a pre-college internship. Competition for the best spots will be fierce, not to mention filling out all those applications can take forever!
Instead of sending a revised resume out for each job or internship application online, send a link to your LinkedIn profile in an introductory email to the person in charging of hiring.
To strengthen your profile, work to expand your network by linking with teachers, coaches, mentors, supervisors, and family members. A major reason to us is to branch out from your smaller group of in-person contacts to other people you don't know firsthand. The person you need to connect with to get your dream job might know someone you know—and LinkedIn could bring you together!
Other benefits include:
Building a professional network and learning how to use it
Crafting a resume and professional online presence
Nabbing

a customized LinkedIn URL for your profile (

this will help drive your LinkedIn page to the top of Google searches on your name)

Finding connections that might help in college and beyond
Receiving recommendations and endorsements on your skills that will remain on your public profile as you pursue further education and a career
Even if the first version of your LinkedIn profile only highlights your stellar babysitting record or undoubtable lawn care skills, you're bound to impress your next employer (even if it's only your neighbor) if you can direct them to a LinkedIn page. And remember, as in many times in life, it's who you know and not necessarily what you know that lands you the job—so why not take advantage of a professional network that now includes over 460 million users?