#94. Approximately 2.6 million hotels rooms are sold everyday in the United States. That is enough rooms to lodge every person living in San Francisco, Atlanta, Washington, D.C., Miami, and Denver combined.


The Seven Things You Need to Know about College Entrance Essays
You can write the perfect college essay, with these tips.
Writing a good college entrance essay can help you with more than getting accepted. A good essay is also going to help you get scholarships. Having a good thesis or impeccable grammar aren't the only thing that the essay reviewers are looking for. So here's a few tips to help you write the best essay to not only get accepted but save some money by getting all those scholarships.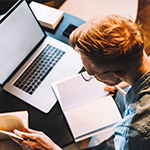 Don't overthink it – Trying too hard is going to show. Let your essay be you; let it be inspired and flowing. That doesn't mean you should sit down and mash your keyboard until you've reached the word count. Start your writing weeks, if not months, before. Write down inspiration on notecards or somewhere else you will remember. Use this inspiration to write instead of trying to brute force an essay.
Verbs and nouns – Avoid using adverbs and adjectives. They don't tell your story. The nouns and verbs are where your story really is. There is a great online tool called The Hemingway App. You can upload your essay and it will break down the sentences that might need improvement.
Focus – Remember those inspiration cards? Pick one or two and stick to the idea. College entrance essays want to know about you, not the situation. Find the part of the story that shows who you are. You might have to write a lot more than you end up submitting. Get used to it—you're going to write and rewrite papers, you're going to take notes and not use much of the content, this is just a preview.
Be creative – That might sound pretty obvious. You're trying to show who you uniquely are, it should be creative. But don't slap down text block after text block. Change up the formatting. Try bullet points, bold, italics, maybe even strike through if it tells the story. If you can, imbed images or other media. Be sure it makes sense to be there.
Read it out loud – Reading your essay out loud will help you find errors and any spots your essay reads weird. Even better if you can read it to someone else. You want flow. A poorly written essay will sound blocky and ridged when you read it out loud.
Be yourself – You're telling your story. Don't stray from it. What you have to say is interesting. You don't need to embellish or, worse, lie. If it's important enough for you to want to talk about, they will find it interesting to read.
Have a "pro" look it over – Chances are you know someone who qualifies as a professional when it comes to writing. They're probably your English teacher. Ask them to review your essay, or if they're busy, ask your guidance counselor or someone on the administration staff. Even if you don't have the best relationship with them, their job is literally to help you succeed. If you don't trust them, take to the internet. There are places where strangers will give you some tips and review your essay for free. Don't rely on just one of these kind strangers, though, if you can avoid it.
Once you hit that submit button, don't worry about it. The essay isn't the only thing that the acceptance committee is going to be looking at. If you have good grades and a few glowing recommendations, you're going to do all right on getting in somewhere. Don't rush through the process of writing your essay. Be yourself, stay focused, and get to the point; do that and your college essay will shine.